Magic was born in Melbourne in 1972. While her family was unconventional, they did instil a strong work ethic and encouraged Magic to apply herself fully to everything she set out to accomplish. Throughout her education, Magic excelled in the
Read more
I would love to help you with your weight loss goals, please enter your details below and find out how you can achieve them
Read more
BOOK REVIEW
This book truly resonated with me ­ I could not 'put it down!' (& I've read dozens of books that focus on the issue of weight loss ­ usually I discard them as I feel frustrated with a situation that deep down 'I don't really want to address!')
This book has helped me 'unlock my feelings' about trying to lose weight, my motivations, my demons, my dreams ­ my journey…
After reading this book ­ I know I can accomplish my desired 'weight loss result & be in control of my own happiness. Thank you Magic xx
Lisa (Melbourne)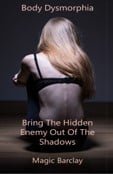 Testimonials
I first met the author when she took on the role as my personal trainer when diagnosed with Type 2 diabetes.
This book enables me to have Magic's strategies and encouragement at my finger tips. She is very open about the life events that lead to obesity and the struggles in developing the methods and psychology to achieve permanent weight loss, so I could relate to many of her issues.
In all the topics Magic covers, it is written in an easy to understand format, equipping me with the knowledge to understand my body and myself. I am particularly impressed that 'Stop being fat: love yourself skinny' encourages me to look at what my values and needs are. This book is both practical and uplifting. I have someone to mentor me who has walked the journey.
To be honest, when I saw what this book was about I thought "here we go again another diet book".
What I did not expect was total, brutal, raw, in-your-face honesty. So honest that I was glued to it. It really makes you stand back and rethink everything. I will be recommending this book to all because for me not to put a diet book down says it all!
I will also be following Magic's blog and Facebook community very closely